Create a free digital move-in report
✔ Fill out in 15 minutes
✔ Avoid The Rent Assessment Committee
✔ Document the condition of the lease
✔ Sign with NemID
To access the move-in report you need to create an account
CREATE ACCOUNT
If you're already a user at LEJKA, make sure that you are logged in by checking the top menu.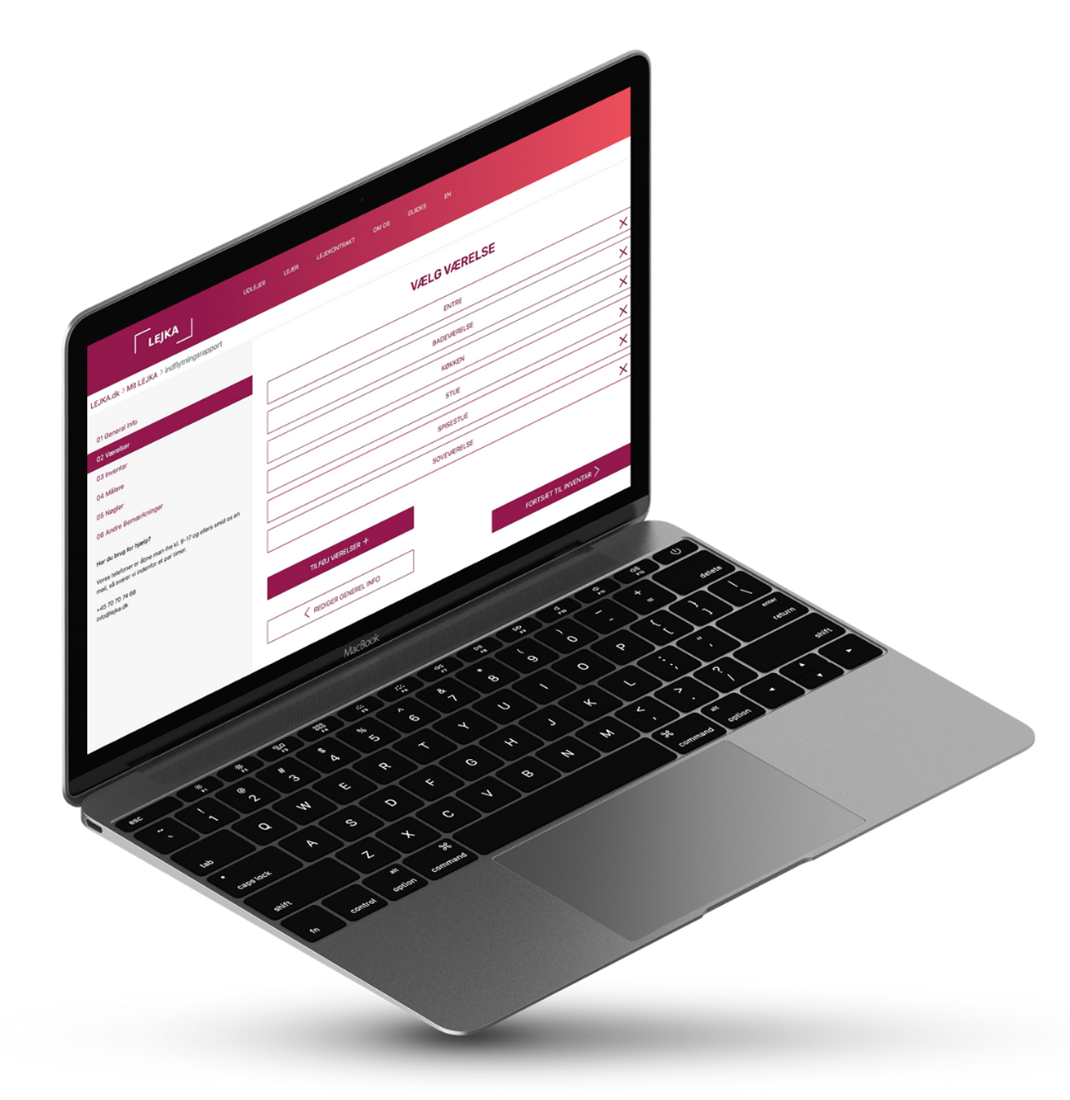 Benefits of choosing LEJKA
Watch how to complete the move-in report
Not sure how to fill out the move-in report?
Watch the video, and get a short walkthrough of the completion.
If you have any questions, feel free to contact us on phone or email.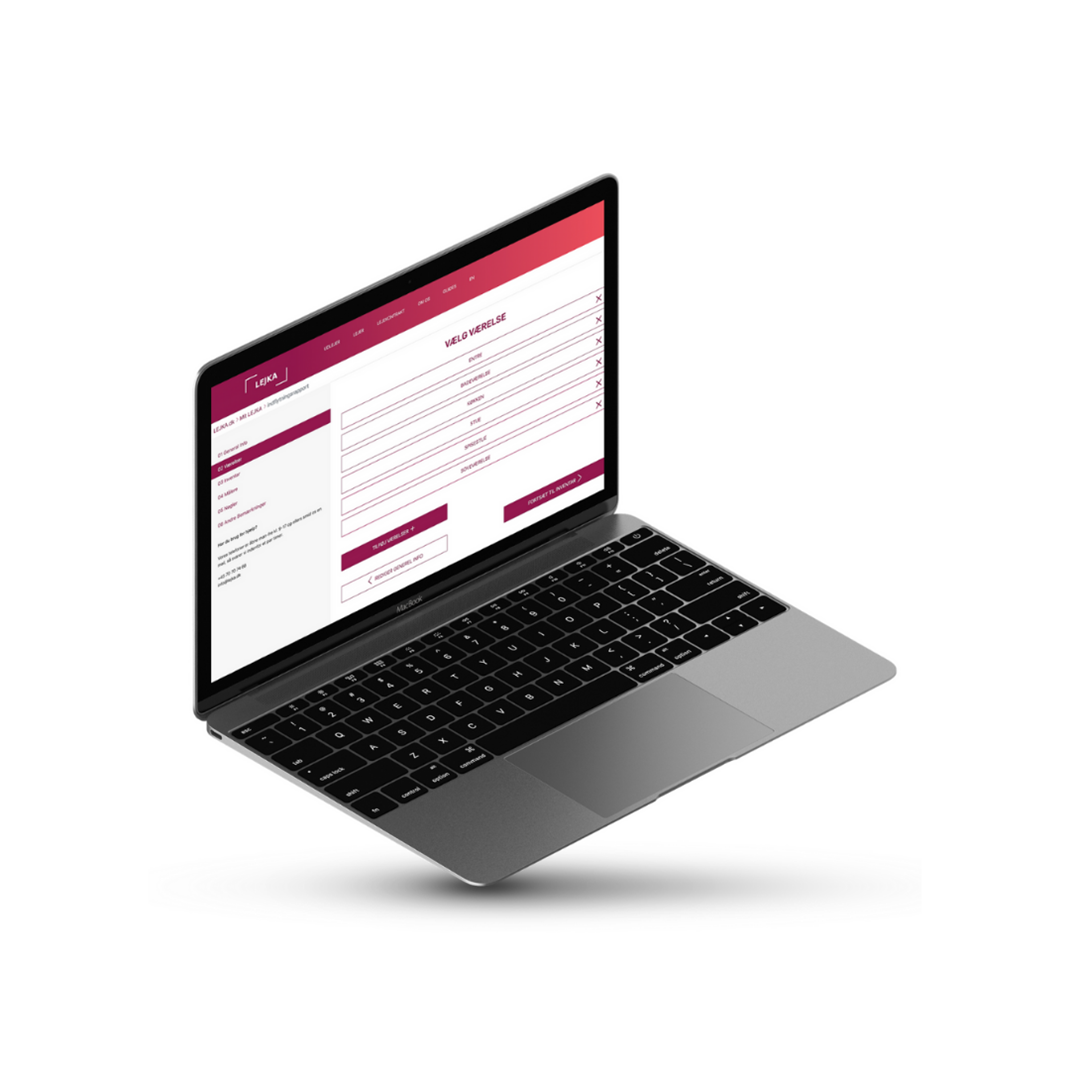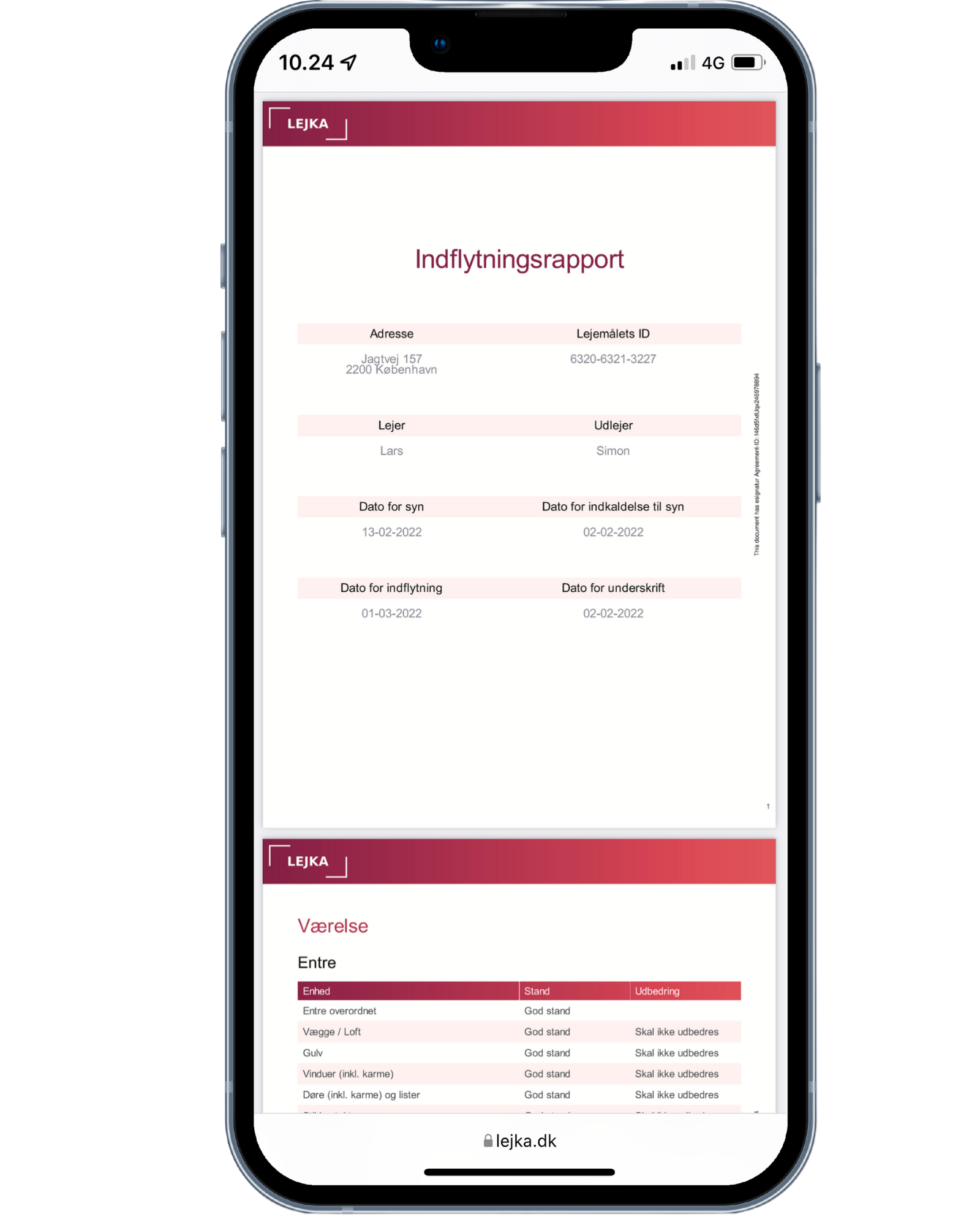 LEJKAs digital move-in report makes it easy to document the condition of the property
You can fill out the report during the move-in inspection, by phone. It's easy and ensures that you don't miss important details.
Create a profile now and get started!
Create free account
Why is a move-in report important?
Hear why Anne-Sofie and Sebastian thinks, that it is important with a move-in report. Anne-Sofie have tried to be unfortunate before in it's tenacy without a move-in report.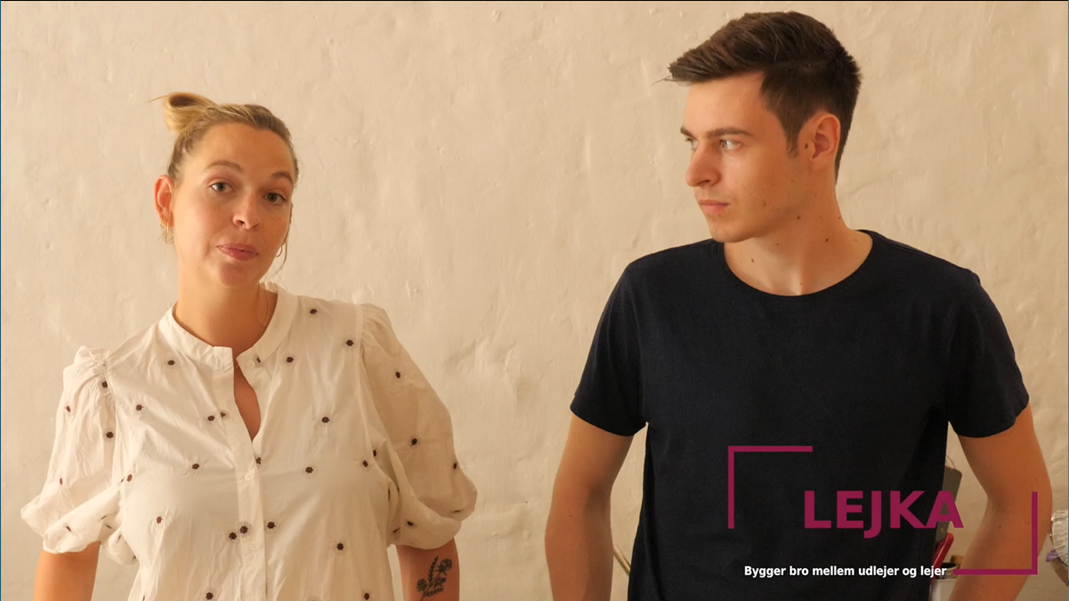 FAQ
What is a move-in report and why is it important?
A move-in report is a legal binding document between the landlord and tenant, that documents the conditon of the tenancy before moving in. It's important to create a move-in report, so both sides agree about the condition of the tenancy. A move-in report makes it easier to distribute the deposit when the lease ends. The document ensures safety and security for both the landlord and the tenant, and the risks of misunderstandings and conflicts decrease significantly. LEJKA makes the process easy og safe, by providing completion and signature digitally. 
You can read more about move-in inspections and move-in reports here here.
How do i fill out the move-in report at LEJKA?
When creating a move-in report using LEJKAs onlineform, you just need to follow the instructions and fill out the boxes as described in the form. The move-in report will take about 15 minutes to complete, and with our help, it's just straight forward. If you have questions, dont hesitate to contact us. You can see an example of a move-in report here.
What is particularly important to be aware of?
It's important that the form is filled out thoroughly from start to end. We recommend taking pictures of the property, and it's very important to document defects fx. scrathes and marks etc. When signing, be aware that the tenants signature only mean that the tenant has recieved the report, and that the tenant has 14 days to make objections after moving in. The tenant doesn't have to agree to the content of the report at first. If the tenant discovers defects within 14 days after moving in, the defects have to be documented and communicated in writing to the landlord, fx. through mail or text.
What happens after i have completed the move-in report?
After completing the move-in report, you will send it to be signed with NemID. When you and your tenant have signed, the report will be available for both of you, at Mit LEJKA. This is where you can also access all the other services, as lease contract, sharing of documents, rent payments etc. 
Is it true that LEJKA is free?
Yes it is. LEJKAs services and counseling is 100% free as long as we protect your deposit in the lease period. Our business model is based upon investing a part of the deposit, which is why we are able to remain a free platform. The money is secured by a bank guarantee, so you can be sure to get you money reimbursed when the lease ends. 
What are the benefits fo using LEJKA?
You will save time, money and worries when using LEJKA. We can help you with all the aspects of your tenancy, and we ensure that everything is handled correctly. Besides protecting the deposit in the lease period, we offer multiple different services regarding tenancies, and have free conflict resolution. If disagreements arises regarding distribution of the deposit, we can make a decision in less than 30 days. It's way faster than The Rent Assessment Committee, which can result in a lot of money and sleepless nights.
CREATE ACCOUNT
If you already have an account, please log in and access your move-in report through your tenancy.
What users say about LEJKA

I have been a landlod for many years, but i will never get used to creating lease contracts, move-in reports etc. I always forget a detail or struggle with a paragraph. It's very time consuming. I have completed my first contract through LEJKA, and it wont be the last!

I can not stand paperwork. I want it to be easy and fast. After my landlord started using LEJKA, i've got complete control over the lease contract, move-in report and so on. Furthermore, i'm a part of the digital generation, and i like that my papers are stored "in the sky", so this platform is perfect for me :-)

Some of the most complex things about renting is the documents. In the past i've been sending documents back and forth with my landlord, and signed on paper. It's just so old school! When i recieved my latest lease contract and move-in report to sign with NemID through LEJKA, it took less than 5 minutes.

When i heard about LEJKAs digital lease contract and move-in report, i thought "no way it's free". In the past i've paid several hundres of kroner for that kind of stuff, so i was pleasantly surprised. Especially that the contracts is signed with NemID, which also provides more safety.